Saoirse is a Dufour 40e Performance built 2010 in La Rochelle on the Atlantic coast of France. I bought her new together with my Irish ex-wife. The name Saoirse means 'Freedom' in Irish and we agreed to buy her provided that she got to pick the name. After making sure that there was no IRA splinter group that had claimed the name before us. I always liked the name even if it is a little challenging to get across over a VHF call. The correct pronunciation is something like 'Seer-scha'. Try spelling that after hearing it over the radio.
Saoirse is what is called a 'Performance Cruiser'. Essentially this means that she has a light sandwich construction, a flat and beamy hull shape, a deep finned keel with a led bulb and a high mast that stands on the keel rather than on the coach roof. This design probably puts her in the somewhat racier category among long distance cruisers but I like that she is fast. Particularly as I mainly plan to sail with the wind from behind as I go west and stay reasonably close to the equator.
The interior offers three double births in three separate cabins and a single head and shower. The main salon and galley offers all the creature comforts I need and I have always preferred living on the boat to any of my previous apartments or houses. And the outside view is almost always much more spectacular.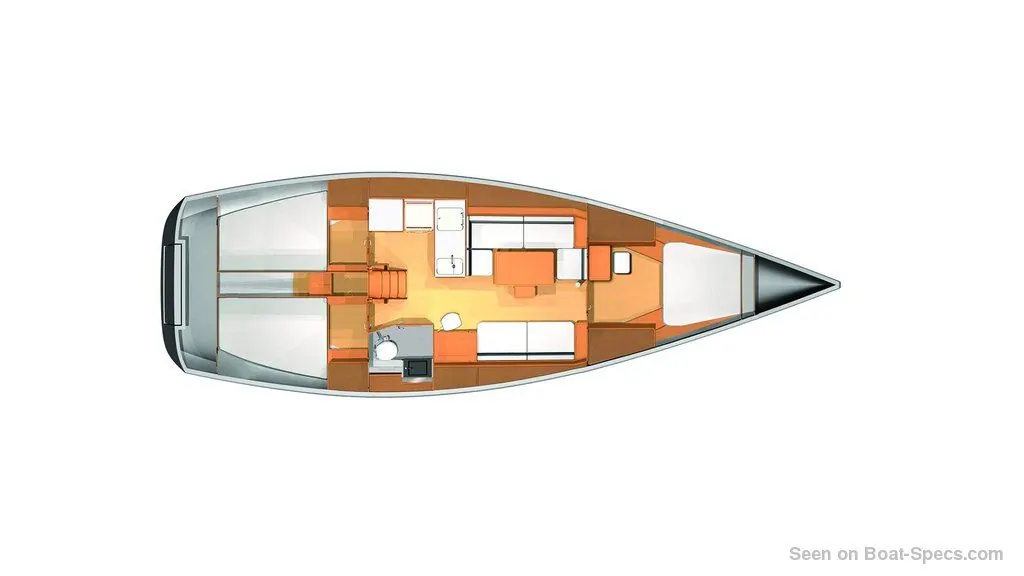 All boat designs are compromises though. I have not yet seen a boat that ticks all boxes. You always seem to give up something. In Saoirse's case it is storage areas and protection from the sun. I have plenty of storage space for food, clothes and spare parts but I am more thinking of diesel, water and stuff you don't want to bring inside. The flat bottomed hull shape limits the bilge area so the only good areas for tanks are under the births. This offers three tanks, each with roughly 200 litres capacity. One for diesel and two for fresh water. I can survive on 400 litres of freshwater for quite some time but it is not going to be enough with a boat full of guests in a remote area and certainly not allow you to rinse the boat with freshwater from time to time.
Fortunately it is not that hard to make freshwater from saltwater. All it takes is a reverse osmosis water maker that filters salt as well as pretty much everything else from the water all around the boat. In my case I have a unit that produces 140 litres an hour that can be powered by the lithium battery power bank via an inverter. The inverter converts the the 12 volts from the batteries into the 220 volts that feed the high pressure pump. The pump is needed to get the feed water to the 55 bars required for this miracle to occur. The batteries in turn are powered by my solar panels. So I'm using the sun to make water. Almost biblical. Greta would certainly approve.
But I still haven't figured out a way to make diesel. If I reduce the cruising speed to 6 knots I can get almost 100 hours from the tank. Running the engine day and night for over 4 days may sound a lot but it really isn't in a dead calm or in areas where it is hard to get the tank filled. The only solution is to carry jerry cans. I expect to bring five 20 litre cans that also need to find a home on the boat. I will need these cans anyway to fill the tank in areas where you can not bring the boat to the filling station. This should give me up to a 900 Nm engine range, roughly a third of the way across the Atlantic from the Canary Islands.
The sun protection problem stems from the fact that aft cockpit boats with racing aspirations tend to have the main sheet traveller (where you control the boom angle horizontally) in the middle of the cockpit rather than in front of it. This means that it is difficult to have a fixed bimini top over the cockpit area. I have had to settle for a removable canvas top that I can use at anchor or when sailing with a foresail only. The area behind the steering wheels at the aft on the cockpit will always get shade from the solar panels above.
Saoirse was bought with short-handed long-distance cruising in mind. That meant that numerous 'extras' were ordered at the outset from the yard and the dealer. Bringing her to a state where you could live on her full time and take her across any ocean single-handedly is a different matter entirely though. That means that you need to be able to make and store both water and electricity as you go, have back-ups for crucial systems as well as tools and spare parts for things that you think you can fix. A list of some of the equipment installed is available under a separate tab.